The Company's Evolution and Coming of Age in Silicon Valley
Welcome to Tensoft – a leading SaaS operations, supply chain and ERP solution provider for the semiconductor, high tech and software industry.
The company's initial focus was on custom development of web-based applications for technology companies in the Silicon Valley area. At the request of several customers, Tensoft began to re-sell, support and host an out-of-the-box accounting and financial software package designed for the midmarket. By 2000, Tensoft was faced with a decision: what will better serve our customers long-term, custom or commercial applications? They chose the latter, and that decision has guided the company's philosophy ever since.
Today, Tensoft remains focused on serving the specialized needs of midmarket technology companies with innovative, end-to-end business management solutions for the semiconductor, high tech and software/SaaS industries. Our customers don't need to spend time re-inventing the wheel – Tensoft delivers just what they need, without the expense and risk of customization.
Whether your company is a pre-revenue start-up or a public enterprise, Tensoft can provide the critical business management system functionality that you need, so that you can concentrate on your core competencies.
Leadership Team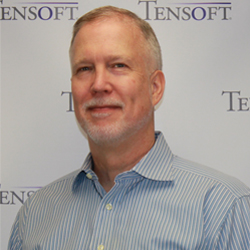 Bob Scarborough, President and CEO
Bob provides leadership for Tensoft strategic direction and day-to-day operations. He works with the Tensoft team to deliver the best products, solutions, systems and support possible for the Tensoft customer community. His background includes roles in product marketing, business development, business process automation and project implementation — all related to business software solutions. He has implemented or managed over 250 business software solutions for a wide variety of industries. In addition to his system expertise and broad industry knowledge, Bob has designed a number of highly sophisticated custom and out-of-the-box software applications.
Before co-founding Tensoft, Bob was the Vice President for West Coast Operations of Deltek Systems (PROJ). He established Deltek's first successful field office in California, and grew the West Coast region revenue over 500% in five years. Prior to that, Bob was the CFO of a Washington, D.C. consulting organization. He has more than 20 years of experience in business software design, implementation and support. Bob holds a BS in Finance from the University of Maryland, and an Executive MBA from the Anderson School at UCLA.
---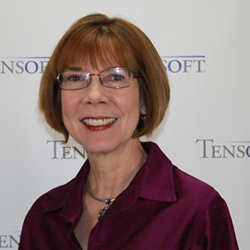 Caprice Murray, Chief Revenue Officer
Caprice leads Tensoft's revenue generation strategy and execution, integrating its marketing, sales and customer success programs. She has helped define Tensoft's target markets, develop marketing programs, establish brand touchpoints, build and maintain effective partnerships, create customer retention solutions, and drive sales. Her background in enterprise software marketing and sales spans over 20 years at both start-ups and established organizations. She joined Tensoft in 2001, after consulting to the company for several years, and has been responsible for Sales, Marketing and Customercare since then.
Prior to that, she worked for several enterprise software firms, including Agresso, Consensys, and Deltek Systems. Caprice has a BS in Anthropology from Santa Clara University, and an MA on Anthropology from San Francisco State University.
---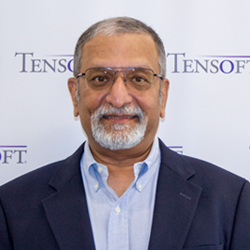 Vishwas Shevde, Chief Operating Officer
Vishwas oversees Tensoft SemiOps implementations, customer support, quality control for Tensoft products, and enhances the customer experience. He has 20+ years of software industry experience ranging from cloud service delivery management, product management, IT operations and customer success. His experience spans across startups and mid to large enterprises.
Before joining Tensoft, he led a global team of product experts at Oracle to ensure customers realized the benefit of their software investments via effective implementations and ongoing feature adoption. He also led their corporate initiative to provide information visibility via Customer360 dashboards for enabling Oracle's internal teams to proactively identify and resolve customer issues. Vishwas holds an M.S. in Mechanical Engineering from the University of Michigan.