Solutions Developed Specifically for Your Industry, With Everything That You Need to Manage Your Business Operations

Tensoft's
semiconductor ERP
and supply chain solution is the product of deep industry experience and proven execution.  Whether your company is large or small, Tensoft's semiconductor and IoT solutions can integrate with your existing ERP, scale to suit your needs and growth,
optimize inventory
to maximize sales – all while leveraging the benefits of the cloud.
See For Yourself What Customers Are Saying About Tensoft
See what these executives from Clariphy Communications have to say about Tensoft SemiOps (formerly known as FSM) and how it has helped them scale their growing technology company, quickly and efficiently. Tensoft SemiOps has helped their Operations team of maintain on-time delivery and manage their supply chain, and has helped their Finance team improve their processes with industry-specific functionality.
Scale Your Organization
Growth requires putting in place both good processes and systematic approaches to challenges.  Tensoft's solution helps implement best practices while achieving your business goals, letting you seamlessly add and change team members to your organization.
Proven Ability to Execute
Demonstrate a high degree of credibility to your end customers with Tensoft's auditable inventory system.
Built for Your Industry
Avoid custom solutions and leverage deep industry expertise  with a single source of truth for your whole company.   Tensoft's solution is built to handle your needs from the start, from its purpose-built functionality to its reporting.  Eliminate the expense and pain of custom solutions and work-arounds.
Eliminate Information Silos
Gain information velocity and accuracy with integration to your ERP, with adaptable integration tools to leading ERP systems.
Understand Your Cost Drivers
By increasing visibility into its semiconductor product costing and by gaining understanding of their cost drivers, Tensoft customer Open-Silicon lowered their inventory cost by 15%.
Optimize Inventory to Maximize Sales
Supply/demand match functionality gives you the right supplier insights, ensuring that you can deliver the right amounts of inventory to meet the right level of sales effort.
Manage Suppliers' Performance
Insight into vendor lead times and commit versus actual schedules allows you fuller understanding of your supply chain and the ability to monitor on-time delivery metrics.
A Single Source of Truth
With one Master Record across procurement, production operations, supply chain and fulfillment, you gain  flexibility to scale up or down, and to change/ adapt your BOM, process flows, finished good variations, etc. to respond to changing customer requirements or shortened product cycles.
Master Process Excellence
Production/Operations execution benefits from having integrated systems across cross functional departments (Operations, Engineering, Quality, Sales Ops, Finance), resulting in greater information velocity, veracity and value.
Lot traceability and quality processes
Be prepared for potential recalls with a complete genealogy, with sophisticated forward and backward lot traceability for the demanding needs in the semiconductor industry.
Scale Your Investment
Manage your cash with a solution that grows with you.  Who says you can't have Tier 1 functionality for a Tier 2 price?  Tensoft has routinely taken customers from pre-revenue to IPO, at high volume.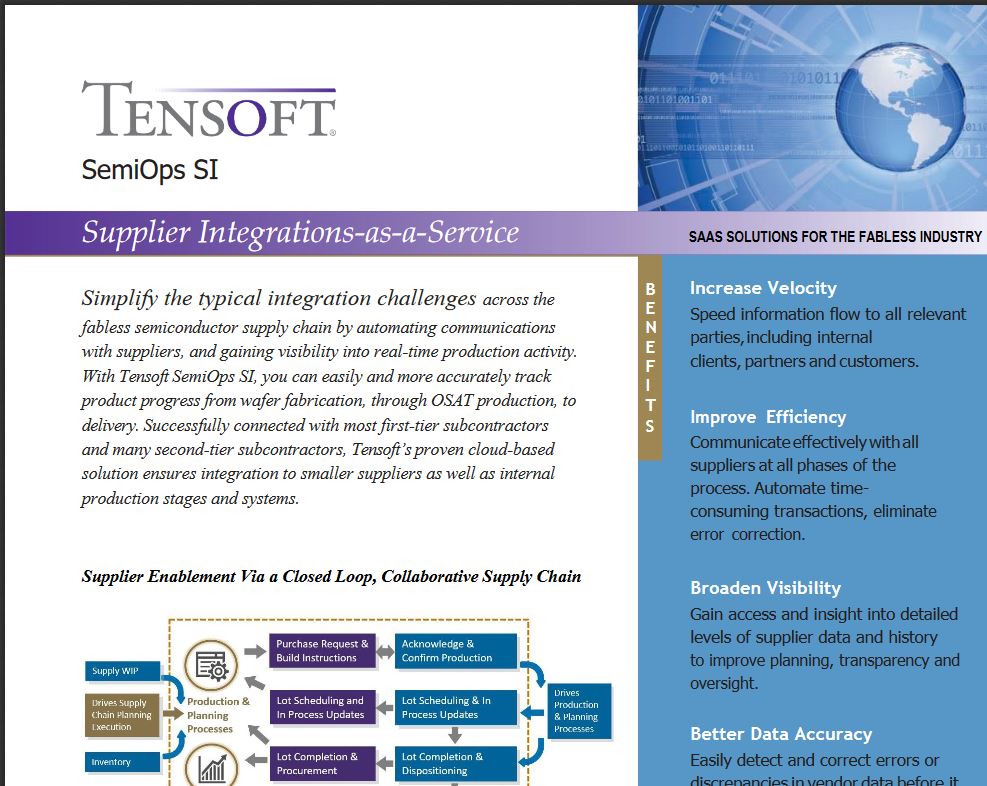 Tensoft SemiOps SI: SaaS-based Supply Chain Integration Solution
How long does it take to learn an industry well enough to specialize in serving it? Today, we've got almost 16 years of experience working with the semiconductor and high tech industries, and almost 11 years with the software/SaaS industry.
Click the image on left to read the factsheet on Tensoft SemiOps SI, a cloud-based solution that synchronizes operations and production finance transactions through collaborative information exchange at every major stage of production.