SOLUTIONS FOR THE FABLESS INDUSTRY
Complete support for finance and product costing. Includes yielded cost models, cost rolldown support, detailed cost and variance analysis, 3-way match for vendor invoices, complete ERP integration, historical inventory reporting, and roll forward inventory analysis.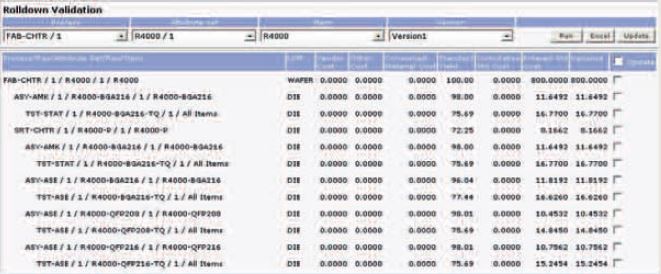 Benefits
Eliminate Duplicate Data Entry
Fully integrated 3-way match, procurement processes, sales order processes, and product costing.
Speed Month End Closing
Automated costing and variance analysis, a full suite of reports, full ERP integration, and roll forward inventory analysis shorten the normal month end close by days.
Simplify Standard Cost Entry
Streamlined change management, including easy to use standard cost entry screens and uploads. Quickly perform rolldown analysis and update standard costs.
Gain Understanding of Cost Variables
Dive deep into cost by product, element of cost, vendor, yield, variance history, and cost by production attribute. Gain understanding of the cost impact by lot and the overall drivers of cost to improve forecasts and future costing.
---
Features Overview:

Vendor Invoice Management
Multicurrency procurement. Three- way match of procurement PO to received lots to vendor invoice. Fully integrated with procurement and ERP.
Yielded Costing Models
Semiconductor standard cost model, including input material, vendor value-add and standard yield.
Variance Analysis
Automatic calculation of production variances. Computes six distinct variances. Full reporting and analysis tools.
Inventory Cost Roll-forward
Analysis of change in inventory value by stage of production, looking at receipts, variances, COGS, adjustments and cost roll-forward.
Change Impact Analysis
Unlimited versions of standard cost. Comparative analysis between released version and alternate standard cost. Identification of dollar impact to inventory. Change and re-work support.
Finance and Operations Sandboxes
Finance and standard yield are distinct and separate from operations yield, allowing operations to plan and forecast while maintaining cost model stability.
Standard Cost Variable Support
Cost per production step can include input materials, consumed materials, overheads and vendor costs. Each cost is stated appropriately for variance analysis and cost history.
Detailed Account Posting Mapping
Cost ERP integration supports account mapping by product link, production sequence and NPI, in any combination imaginable.

Full Suite of Financial Analysis and Inventory Valuation Reports
Historical and current invoice value reporting. Product cost analysis by vendor, lot, and production variable, within a time period.