If your company is having some revenue recognition issues, you're in the right place! Whether you are struggling with error-prone spreadsheets, painful audits, revenue leakage or compliance issues, Tensoft Revenue Lens® can help you!
This affordable SaaS stand-alone revenue recognition solution helps manage the most complex revenue transactions, deliver real time visibility, increase accuracy, and shorter close cycles making the revenue recognition process easy. And, it helps meet ASC 606 and IFRS 15 requirements, and runs with any accounting or ERP system.
When OrthoFi, a tech enabled service for orthodontic practices, needed a trusted solution to manage their complex revenue recognition needs, they turned to Tensoft Revenue Lens. Watch the case-study video above to learn how Tensoft Revenue Lens helped meet their growing needs and turn their painful audits into problem free audits.

Watch the case study video to learn how Cleo gained confidence in revenue reports with Tensoft.
Cleo, a leading company that specializes in helping companies move data securely, uses Tensoft's revenue management solution to help manage and report their revenue. We spoke with Richard Gorman, the Director of Finance for Cleo, to see how Tensoft RRM – now known as Tensoft Revenue Lens – has helped their revenue recognition processes.
Capabilities of Tensoft Revenue Lens
We know revenue recognition can be challenging! Here are few resources that can help you understand the Tensoft revenue recognition solution and its benefits.

Tensoft Revenue Lens in 2 Minutes
Get a quick overview of Tensoft Revenue Lens in this short video and learn how this best-of-breed stand-alone SaaS application can benefit you!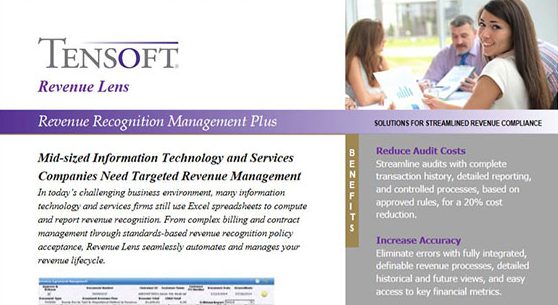 Understand how Tensoft Revenue Lens applies the new 'five-step model' for ASC 606 and IFRS 15 revenue recognition standard.
White Paper
This white paper discusses important revenue regulatory compliance considerations when implementing a business software solution.
---
Our Customers Say
"It is very important that revenue recognition is done properly. So, my first thought – when I joined eSentire and reviewed their then current processes – was to recommend moving back to Excel so that I could have better control. That's because – before we added Tensoft Revenue Lens – I could not trust the system that was previously in place. So Tensoft definitely eliminated all of that extra work and doubt. Before, we didn't have visibility into what will be happening into the future with all of our deferred revenue balances. Now we do, so we can actually forecast better."
– By Aleksandra Baran, Senior Director of Finance
Learn how you can benefit from Tensoft Revenue Lens
For more customer success stories, click here.
---