SOLUTIONS FOR THE FABLESS INDUSTRY
All the tools a customer service manager needs to support customer orders, scheduling, shipping and drop shipment, documentation, and management metrics in a closed loop system fully integrated with invoicing and accounting. Customer service is an integral component of the Quote to Cash cycle.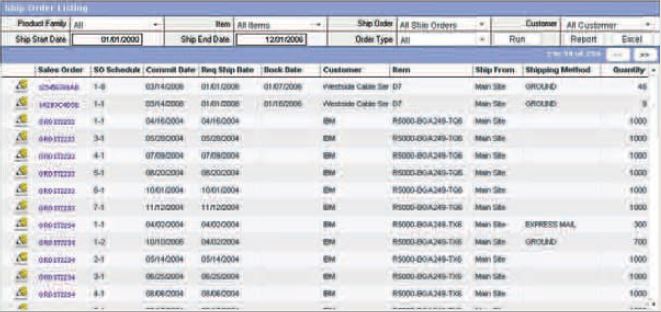 Benefits

Simplifies Date Tracking
Dock date, required ship date, commit date, actual ship date, are all available, and a full history of changes to these dates is saved automatically. The integration of transit zones supports standard ship times by shipping method – helping Customer Service deliver on time.
Eases Schedule Management
Sales order lines can be split to allow multiple shipments against each line – supporting multiple commit dates. Full integration of schedule with planning and backlog management streamlines management processes.
Delivers Key Information
Booking, billing, backlog tracking and reporting dashboard from analytics module. Instant drilldown insight into changes.
Streamlines Shipments
Shipper portal supports outsourced logistics and drop shipment. Outsourced fulfillment shows workflow status, fully integrated with shipping documentation.
Supports Real-time Updates and Actions
Alerts update all process partici-pants, enabling quick adjustments to customer and financial hold changes as well as changes to the shipment status and backlog.
---
Features Overview:
Booking, Billing, Backlog
Backlog reporting and analysis, change history, dashboard presentation, detail drilldowns, dimensional analysis.

Customer Order Scheduling
Sales order line splits, dock date / required ship date analysis, shipping method decision support, and order change management impact on scheduling. Complete date change history.
Available to Promise
View future availability based on existing inventory, current and planned production orders, reduced by backlog as well as forecast. Date-based analysis by product.
Quick Shipment Screen
Supports dock picking based on scheduled date and shipping location, lot allocation, packing slip, review and sign-off.
Outsourced Fulfillment
Drop shipment support, outsourced warehouse management support. Vendor portal, including: shipment request and request acknowledgement, pick pack and ship, streamlined outsourced process for commercial invoice and packing slip creation. Complete insight into workflow at outsourced site.
Returns Management
Includes identification of returned items with full genealogy.
Outsourced Warehousing Support
Includes incoming receipt acknowledgement, tracking of transit time, and extended cycle count / physical inventory processes to maintain integrity between vendor systems and company inventory balance.
Full Suite of Customer Service and Shipment Reports
Inquiries by lot, production attribute, customer and part. Complete transaction history by location, customer, site, transaction type, part number, lot and production attributes. Ability to extend the system with user-created reports.

Standard Integration to Microsoft Dynamics GP
Closed loop process for sales orders to demand model/backlog, to material allocation, to shipment and to invoice.

Dashboard (with Analytics)
Integration with SemiOps Analytics Module provides detailed analysis for on-time delivery, extended dashboards and extended transit time analysis.