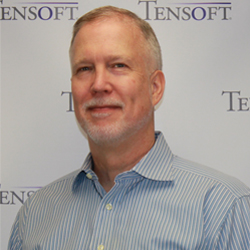 Blog Post Continued: Another topic of interest covered during the PwC Bootcamp was revenue recognition management systems. As a revenue recognition management system provider, it's always interesting to learn about their take on things from a corporate Fortune 500 system level – what you can expect from a revenue management system, the challenges when implementing, and post implementation optimization strategies.
PwC included one slide graphic that presents a hierarchy of revenue management system capabilities from the most basic to the most challenging. The knowledge based prioritization of requirement complexity, and the ability to compare your current revenue management needs to that expected complexity, is an important part of their consulting process for system evaluation. It was rather interesting to see how Tensoft's view of the revenue recognition management systems differs from theirs in terms of automation.
For example, the most complex need on their list is variable. You can think of a variable consideration as belonging to one of two general categories. The first is related to rebates or price breaks (future financial events that lower the cost to the customer). The second category is related to overages, minimums and "true- ups" (additional costs based on uncertain future usage). Given their broad perspective of the revenue challenge and the ability to match system capabilities to that challenge they believe this area is the hardest area to automate.
At Tensoft we can benefit from industry specific focus. We do not need to account for every variable consideration revenue complexity. But we can focus on the variable consideration complexity for specific industries. For example, for some of our semiconductor industry customers, we can identify the industry specific variable consideration needs related to distributor management and can add system capabilities around those specific needs to help support variable consideration revenue recognition impact.
Tensoft's revenue recognition solution, Tensoft Revenue Lens, is equipped to handle the variable consideration and meet the ASC 606 requirements. Following are some of the reported benefits of Tensoft Revenue Lens from our customers:
Support Proper Valuation: A customer was able to substantiate their deferred revenue schedule and years out forecasts increasing company valuation appraisal by multi-millions for M&A exit.
Reduce Audit Fees: A large tech customer reported targeted revenue accounting related audit fee reduction of 20%.
Streamline Month End Close: Client forecasted decreasing close time from weeks down to days.
Validate Revenue Cycle Sooner: A software company moved recognition periods from annual to monthly process.
Gain Trust in the Process: CFO reported improving peace of mind / morale relative to 'trusting the data' and preparation for annual audit.
Improve Customer Satisfaction: CEO stated his company streamlined billing cycles and processes which improved their customer satisfaction experience.
For more information on Tensoft Revenue Lens, please contact us. If you have missed our previous blog post on the latest Feature Pack release (2018 FP1) of Tensoft Revenue Lens, you can read it here.