SAN JOSE, CA – November 2, 2011 — Tensoft, a leading financial and operations management software provider for the technology industry, announced today that it has been approved by the National Association of State Boards of Accountancy (NASBA) as a registered sponsor of Continuing Professional Education (CPE) programs, both in-person and online. This certification affirms Tensoft's commitment to the delivery of high quality continuing professional education focused on the most current issues for technology companies.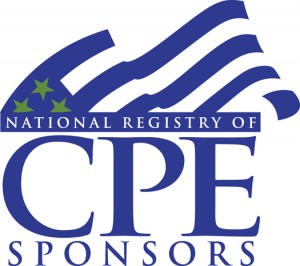 "Tensoft is pleased to be able to offer programs as an accredited CPE sponsor," said Tensoft President and CEO, Bob Scarborough. "We're committed to providing the best software solutions to our technology industry customers. We also understand that software such as Tensoft Revenue Cycle Management (RCM) is only part of the total solution. For example, another element of managing revenue recognition and contracts is understanding the rules and standards affecting specific types of business. With that in mind, we work with thought leaders to provide relevant information and resources to our customers and other interested companies."
Tensoft offers online courses such as the "Software Revenue Recognition Training: Introductory to Intermediate-Level" and "Revenue Recognition Accounting for SaaS (Software as a Service)." Tensoft's Executive Webcast Series presents free one-hour programs on topics such as "EITF 08-1 and the Relative Selling Price Method for Multiple Element Arrangements." In addition, "Revenue Recognition in Accounting and Financial Software," is available to Tensoft RCM Re-sellers.
About Tensoft
Tensoft, Inc. specializes in innovative, end-to-end business management solutions for the technology industry. Tensoft's focused technology industry solutions have been created to extend broad, horizontal ERP functionality to meet the specialized needs of the technology industry. The Tensoft RCM family of products brings together the specific revenue recognition, recurring billing and contract management functionality that today's technology companies need. The Tensoft Fabless Semiconductor Management (FSM) suite automates the operations, cost accounting and customer service management functionality unique to the semiconductor industry.
Founded in 1996, Tensoft delivers results tailored specifically to each customer's needs. The company sells its software products and cloud applications directly to customers and partners with established firms in the U.S., Canada, and Europe to re-sell and provide local support for its products and applications. For more information, go to www.tensoft.com or call (888) 450-4030 x406.