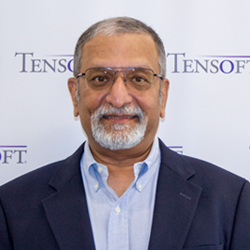 Tensoft Cloud Platform is designed specifically for the semiconductor industry and it supports two primary business processes, quote to invoice and procure to pay. The quote to invoice is the sales order management process where you are selling products to end customers and expecting payments from them. Procure to pay is the manufacturing & inventory management process where you are dealing with suppliers and vendors. Here the manufacturing of the product starting from wafer all the way through to the end sellable product is tracked. All the information including the different vendors, delivery schedules, inventory, etc. is tracked and managed within Tensoft.
Sometimes, our customers prefer to integrate Tensoft application with their Dynamics 365 Sales to further streamline their business operations and get a 360-degree view of the business. To do so, a thorough understanding of the current business processes and capabilities is necessary. We recommend looking at this as a phased approach to make sure that you fully leverage the functionality built into the Tensoft solution and then consider augmenting it by integrating with Dynamics 365 Sales. The diagram below shows such potential integration.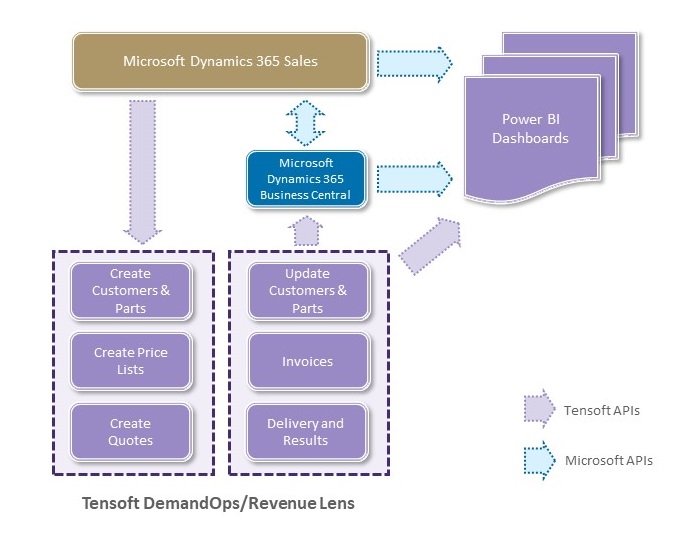 Since DemandOps data model is specifically designed to manage semiconductor industry order management, we recommend leveraging DemandOps functionality for key data elements like customer master, quotes, sales orders and invoices. You can generate your customers, parts, quotes, etc. in DemandOps and then feed it into the financial system which then needs to be connected with Dynamics 365 Sales as well. You can use both Tensoft APIs and Microsoft APIs to create insightful reports in Microsoft Power BI.
Tensoft provides a variety of APIs that allow you to either update or retrieve relevant data from the Tensoft applications. We have built a Power BI dashboard with 15+ standard reports covering everything from bookings, backlog, inventory, yield, etc. By blending in the data from your financial system as well as your Dynamics 365 Sales with Tensoft Power BI dashboard, you can get a holistic view of your business.
For successful integration, you need to make sure that requirements are clearly understood and documented as to business ownership, system of record and business processes to be used. A thorough review should be conducted to determine the system of record and there needs to be a clear definition of any unique business logic.
The master data load after the development is complete should be tested and validated properly to ensure that the systems are in sync and data is flowing back and forth across the different systems. It is critical that a good user acceptance testing effort be made to avoid issues or surprises post go live. We highly recommend reviewing future state businesses and streamlining your processes to automate them for smooth operations. This will help process your orders as well as minimize the time spent in generating reports and closing your financial books at the end of the month and end of the quarter.
To learn more about Tensoft and its solutions, contact us today!