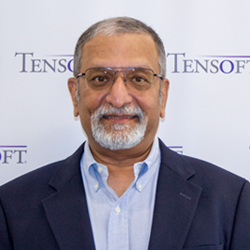 We at Tensoft are often asked how our products can integrate with suppliers in semiconductor supply chain and how we can help them with streamlining their inventory management and financial reporting?
Types of Supplier Integration
Tensoft offers 2 levels of integration. These are within the SemiOps application where the manufacturing processes are tracked in detail.
Level One Integration: This integration is for WIP (Work in Progress) and PayPoint.
WIP allows cusotmers to see how a vendor/supplier is progressing through the work order. The data and information changes frequently throughout the day on a WIP report.
Paypoint report indicates the end of the day progress and deliverables that are made available to the customer. It is also a trigger implying that the vendor will be requesting payment for goods shipped. Once received, the inventory data is updated in SemiOps so that customers always have the most up to date information at hand for processing customer orders.
Level Two Integration: This integration is for receiving an invoice from the supplier.
Once the supplier has delivered the ordered parts, they will send an invoice through this channel and that invoice will automatically be created in Tensoft for further processing in the associated ERP system.
The figure below shows how these integrations play an integral role in streamlining the tracking of manufacturing information in the procure to pay process.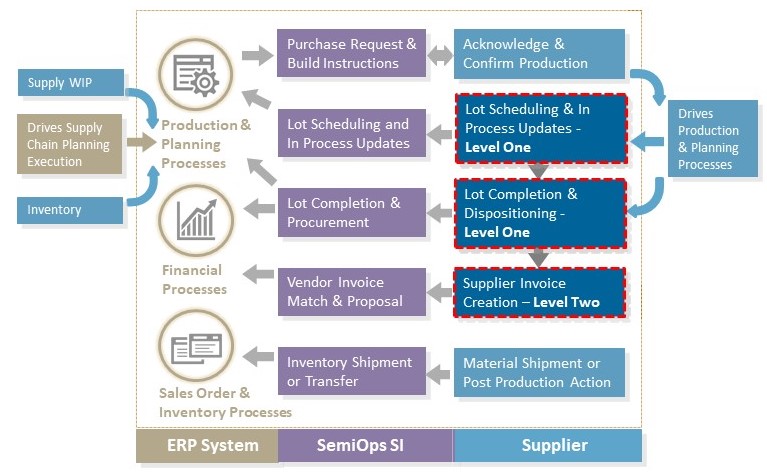 Typical Integration Implementation Steps
From an implementation perspective, we go through a methodical process of working with the suppliers, making sure that the supplier and the customer have an agreement on what information needs to be flowing between the two systems.
This includes establishing the requirements for the method, structure and content of the data transfer between the supplier and Tensoft. Once agreed upon, the supplier will send sample data files that are then processed, and data transferred into the SemiOps application's test environment. At this stage, both the customer and the Tensoft teams work together verify and validate the data transfer process. Accuracy of information is critical to ensuring reliability and credibility of the reports generated.
After testing/validation is completed, integrations are promoted into the SemiOps production environment for automated processing based on the agreed frequency.
Benefits
When businesses first implement Tensoft solution, it allows them to move away from use of many excel spreadsheets to a more automated process where information is stored in a structured and meaningful manner for easy viewing and reporting. With supplier integrations in place, customers can:
Reduce data entry effort and error
Deliver production status reports to all parties faster
Gain near real-time visibility to inventory as it moves through the various stages of manufacturing
Increase confidence in committing delivery schedules to customers
Measure supplier performance to drive ongoing optimizations
With the integrations in place, customers will have a solid foundation for scaling their business operations as new offerings are developed and additional suppliers are added without increasing significant expenditures.
For feature overview and benefits, view this fact sheet on supplier integration. If you have any supplier integration questions specific to your business, contact us today!