Over the years we have integrated Tensoft's fabless semiconductor management solution with a variety of mid-market cloud systems. From SAP to NetSuite to Oracle to Sage/Intacct, we have done it all! In this blog post, I'll give you a glimpse of our integration process with NetSuite.
NetSuite's Advanced Financials module is the recipient of data coming from the various manufacturing and inventory transactions that are managed within Tensoft SemiOps and Tensoft DemandOps. SemiOps tracks and manages the inventory which accrues production receipts, manages other uses of inventory creation or consumption, and values inventory change that happen as the manufacturing process moves through its different phases. These are then fed into NetSuite as general ledger transactions. Supplier invoices are approved by a match process and are sent to NetSuite accounts payables. DemandOps serves as the single source of truth for customer master, item master, sales orders and invoices that are created and managed in DemandOps.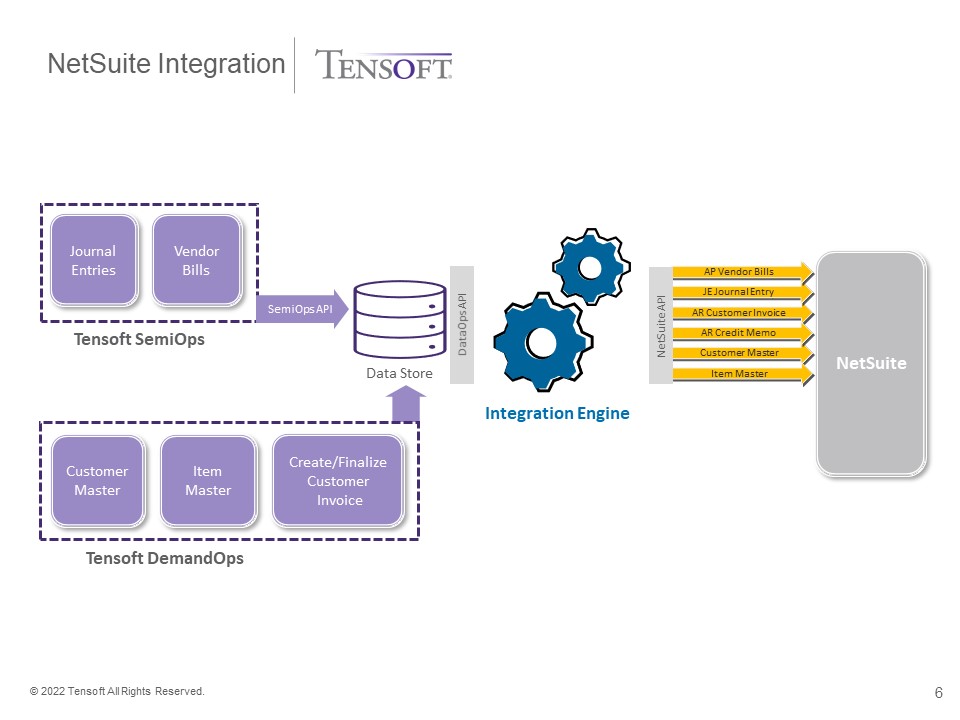 How Does the Integration Work?
Tensoft SemiOps and DemandOps transfer data into an intermediate data store. The integration engine processes this data on a regular basis and moves it into NetSuite. For development and testing we work together with NetSuite to setup a sandbox environment. We then validate the data transfer along with the customers business team.
There are six data feeds going into NetSuite. These are all unidirectional and include accounts payable, journal entries, customer invoices, credit memos, customer master and item master.
What Best Practices are Employed?
It is of utmost importance to flesh out the requirements document, including these particular requirements:
There needs to be a clear definition of the NetSuite fields that the customer plans to use. And if there's any custom or unique business logic that the customer want us to handle as part of that integration process, that also must be defined.
There must be business process alignment within the customer organization as to who does what, when, where and how.
To avoid duplication of data, we recommend creating new customers and new item masters only in DemandOps – not in Netsuite. With administrative procedures in place, customers will have a comprehensive view in NetSuite of all the financial transactions generated and created in Tensoft. They can then close their financial reporting in NetSuite.
What are the Benefits?
Eliminates manual data entry effort in NetSuite
Automated data transfer reduces error and improves efficiency
Gain quicker visibility into how the business is progressing through manufacturing and sales processes
Customer Success Story
Luxtera, a fabless semiconductor company, selected Tensoft SemiOps to run with their NetSuite accounting and financial system. Read this customer case-study to learn about the benefits of implementing Tensoft SemiOps.
If you have any questions on NetSuite integration or would like to know more about Tensoft solutions, contact us today!