As a long-time Microsoft Partner, we are excited to see that Microsoft has been positioned as a leader in Gartner's 2018 Magic Quadrant for Analytics and Business Intelligence Platforms for the 11th consecutive year. Get the full Gartner report here, and see the Magic Quadrant below.
We all know that in today's data-driven world, business intelligence is the key to gaining valuable business insights and making informed decisions. Microsoft Power BI – with its ability to connect to data from different data sources and model it to produce rich interactive reports – has benefited numerous Tensoft customers.
A recent Microsoft blog post highlighted feedback from few of its Power BI customers like Aston Martin, BitTitan and Henkel:
"We use Power BI in Office 365 to turn data into insights, so we can ensure our place in the future of the luxury car industry." — Andrew Palmer, Chief Executive Officer, Aston Martin
"We're using Power BI to tell a better, more effective story to our partners. And we know it's working because we're seeing more subscriptions, followers, and retweets, and higher partner engagement numbers." — Jessica Raymond, Director, Marketing, BitTitan
"With Office 365 E5, we're delivering an intelligent workplace, where employees gain self-service access to interactive, graphical reports and dashboards through Microsoft Power BI. Our employees use this service to create their own reports on demand. And for Henkel, there's huge benefit in supporting efficient, widespread access to business information, such as increased agility in a market that's moving faster than ever. The possibility to quickly assess the impact of an advertising campaign might serve as a good example: It's easy to use Power BI to analyze real-time sales data and fine-tune our marketing activities to drive sales." – Markus Petrak, Corporate Director, Henkel
Here at Tensoft, we utilize Power BI with our vertical solutions to empower our customers by creating meaningful reports that are industry-specific. The seamless integration of Power BI with Tensoft applications provides our customers with robust solutions. They can now gain a single view of their organizational data and get the insights they always needed. The knowledge of key performance metrics and ability to view the dashboard in real time from any device has accelerated the decision-making process and made it more efficient.
This powerful combination can address many of the operational constraints in the Semiconductor and IoT industry. With help of Tensoft datasets, customers can create visualizations to get an overview of the sales data with all the scheduling information including booking, billing, and backlog in no time.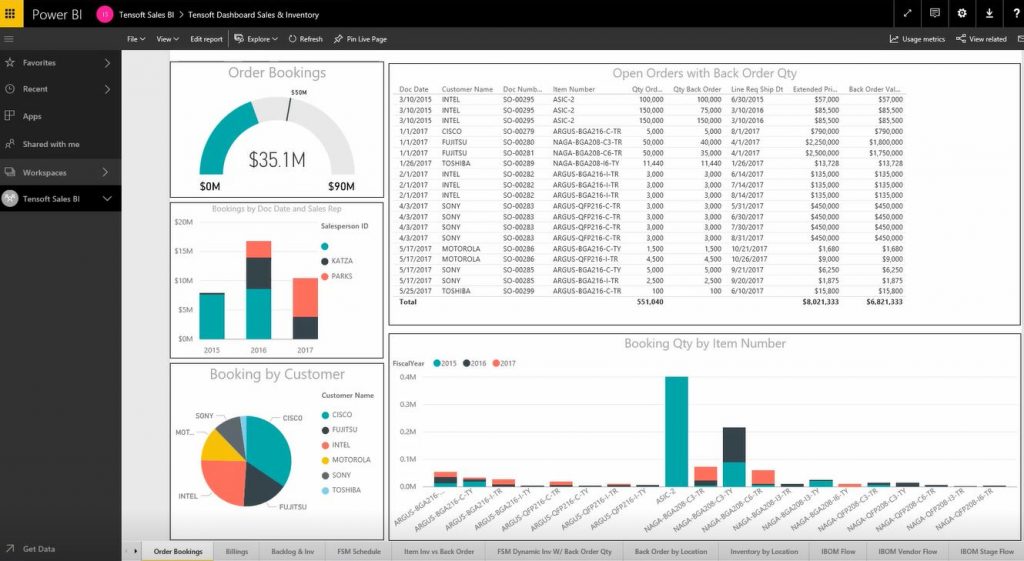 Tensoft customers can now connect the dots of production process with BOM (IBOM) flow analysis.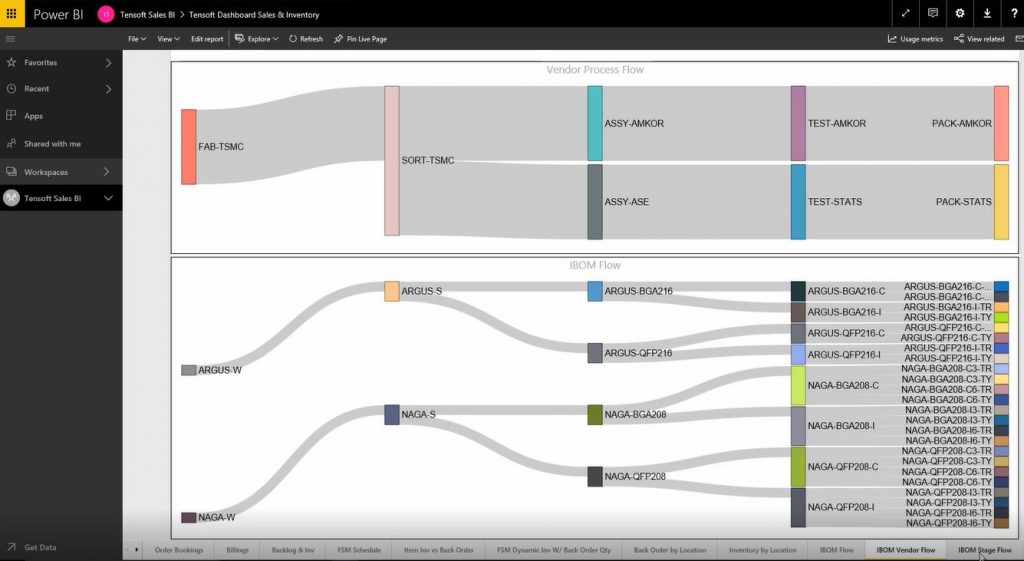 For more visualizations from production inventory to production orders and metrics, view this short video. For more information on how to get started with Power BI, read this blog post.