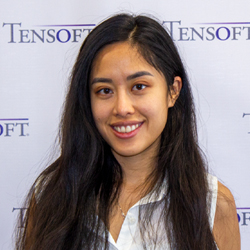 The wait is almost over! Momentum 2016 – the 11th Annual ERP/Supply Chain User Conference for the Semiconductor Industry – is just two weeks away.  As always, we've been working hard to plan an exciting conference for our Tensoft FSM customers to foster a great learning environment with plenty of networking opportunities.
And, we're excited to have two exceptionally engaging industry expert guest speakers for this year's event: Charlotte Diener and Trisha Giacopazzi.
Charlotte Diener is a seasoned industry executive whose past roles included Supply Chain Consultant at AMAZON, and Senior Vice-President for ON SEMICONDUCTOR. Charlotte will be presenting two highly informative sessions about planning this year, Building Planning into your Organizational Culture and What's New in Demand Planning? ​
Trisha Giacopazzi has been in high tech manufacturing for over 25 years, and has been at AMKOR TECHNOLOGY for over 20 years. Trisha's current role there is Director of the eBusiness Management Team. She will be bringing her special industry insight to a session called Integration from a Supplier's Perspective.
Attendees can also look forward to a full program of educational sessions and hands-on training labs, including:
Industry and Product Sessions –
Semiconductor Market Trends and Industry Overview
Microsoft Power BI Overview
What's New in FSM 2017
New Sales Order, Distributor Management, Order to Ship Process- The Next Generation
The Beer Game: Understanding Demand Drivers
Avoid Common Pitfalls in FSM – Tips and Tricks of the Trade
Consider the Possibilities of Supplier Integration
Getting the Right Data for the Right Plan
Configuration Housekeeping
Product Direction and Wishlist
Hands-On Training Labs –
Introduction to Microsoft Power BI
Product Line Profitability Reporting
New! Inventory Disposition and Quality Processes
New! Stock ID Combine Lot Shipping Processes
New! Procure to Pay Enhancements
Planning Engine Recommendations
Using FSM Data to Lower Inventory Costs
If you're a Tensoft FSM customer and you haven't registered yet, we encourage you to register now. Don't miss this great opportunity! If you are still unsure and would like to know how Momentum can benefit you and your organization read these customer testimonials.
If you're not a Tensoft FSM customer – and would like to know more about Tensoft's ERP/supply chain solution for the semiconductor and IoT industries – please visit our Tensoft FSM product pages, or contact us for more information.