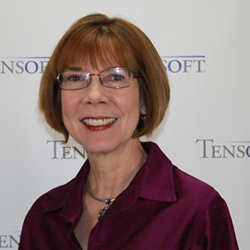 One of the biggest challenges faced by semiconductor and IoT operations and finance executives everywhere is scaling effectively and efficiently. As production ramps and organizational complexity increases, companies worldwide need to equip themselves early on to mitigate execution risks and the (albeit positive) chaos accompanying hockey stick growth.
One of Tensoft's recorded webcasts, 'Challenges to Scaling Production Ramp' shares some best practices for managing a fabless semiconductor company's lifecycle from early ramp through volume production. To view the entire recording, click here.
Below is a partial transcription from the webcast:
"Good morning everyone. Before we get started I'd like to just talk through what I call a typical startup profile. There are common themes that run ubiquitously across semiconductor, sensor, and module companies. This will come as no surprise to our audience today, because I think every one of you in some capacity, if you're in a startup mode, are feeling the types of requirements we've outlined here – in terms of how you go to market, and the typical exogenous types of events you're facing on a day to day basis.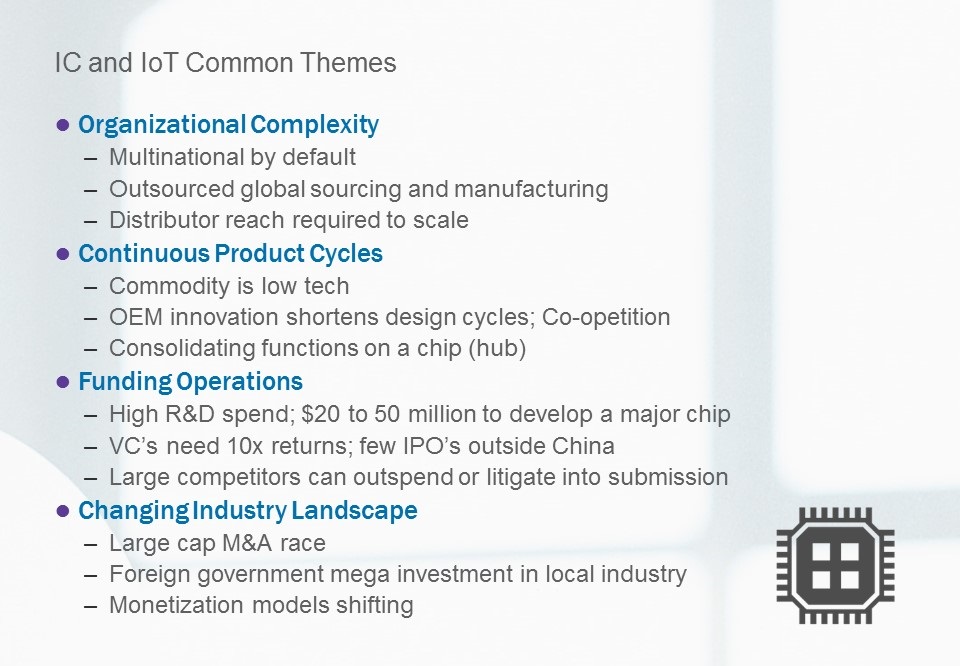 From a quick rundown perspective, you all have what we call organizational complexity. Many semiconductor companies are multinational at day one and have to assemble their operations around their suppliers. You have the design centers, whether they be local, in other regions, or even overseas right next to your foundry or OSAT type partners. You have this global sourcing and manufacturing structure, which also carries its own systemic risks. As well to scale you need to partner with other larger companies, typically through distribution to get to a mass market audience.
The product cycles are continuous. We no longer typically see startups in what we call low tech, because it's a commodity business. Chips that sell for the 10 or 15 cent ASP model is not an area that typically we're seeing a lot of funding coming into. These are more complex types of semiconductor chips, the design cycles are rapid, but the complexity, the competition, and the R&D spend is very high.
As we see more functions moving onto multi-chip modules, hubs, and getting into applications such as artificial intelligence and neuroprocessors, where the funding operations can be $20-50 million just to bring a chip to market And in some cases, most recently we've seen two neural chip processing companies raise $100 million before they're even in revenue.
The net/net is the venture capitalists and the funding mechanisms – they need large returns and in order to do that there has to be a large payout on the back-end. Now we have seen more strategic investors come in. The OEMs or other large chip companies that might be a natural acquirer. But because of the fact that we've had few IPOs outside of the Chinese market, the traditional funding space – unless there's a chip with a very large end-run possibility – still is tenuous at times.
We have large competitors that ultimately have much larger budgets to spend in terms of R&D. And if they handle or manage patents can litigate beyond our ability to scale as well.
So there's this changing industry landscape ultimately that we're all facing, and that's a large cap merger and acquisition race. We've seen world record activity over the last 24 months. We've seen foreign governments get into this space making large investments to improve the sourcing of their local industries. One in particular, one of the largest GDP countries in the world, just five years ago sourced more semiconductor chips than they imported for oil imports. Within the next 12 years they're actually looking to change those dynamics significantly, spending billions of dollars in this sector.
So we know that the monetization models are shifting, and as such companies need to shift with that. In order to do that, typically companies have a ramp to face the headwinds and sort of the challenges we see on a day-to-day basis in this sector. We typically see chip and sensor companies go through what we call a three-growth phase life cycle (see illustration above)."
To learn more, please view the entire recording here. For questions about Tensoft's products and services, please contact us directly.