Although Tensoft's primary business is developing, implementing and supporting its own industry-specific business system applications, Tensoft also has a long history of re-selling, implementing and supporting Microsoft Dynamics. This allows us to offer our customers an end-to-end solution from one source, if they prefer that option. (If not, we're happy to integrate our solution to another modern cloud accounting and financial system of your choice, as long as it has adequate APIs.) The Microsoft Dynamics solution that we currently offer is Microsoft Dynamics 365 Business Central.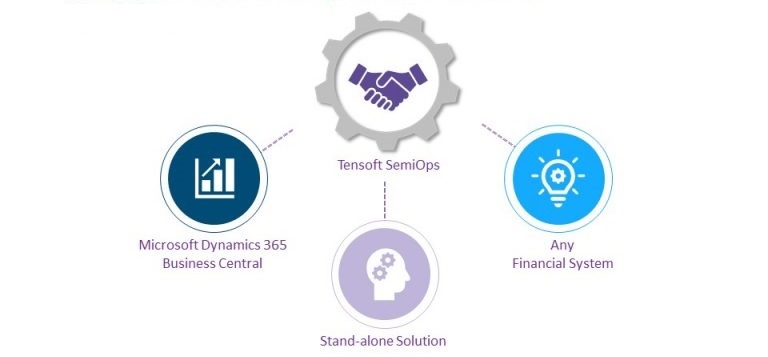 Tensoft has been a Microsoft partner since 2005, and was a Great Plains partner before that. Here's what Tensoft CEO Bob Scarborough had to say about this partnership:
"So, our partnership with Microsoft started when Microsoft got into ERP systems – when they bought Great Plains, Navision, Axapta and Solomon. This really turned out to be serendipitous for us, because it was a great fit for who we are and want to be.
When we were initially founded, we looked at what made up our core competency. and one key component of that was that we really had this deep experience in systems that fit individual company needs. A partnership with Microsoft made sense as a place where we could leverage what they do well which is broad functionality at a reasonable price point for businesses to run their business. To that we could then add "last mile" value through both their tools and our applications. Plus, our own know-how can then be tapped to help some companies go deeper into the expertise needed in specific areas."
In recent years we decided that Tensoft's deep expertise in implementing and supporting Microsoft Dynamics products merits a separate website for that practice. You can access that subdomain: https://dynamics.tensoft.com/. On that website, you can learn more about Microsoft Dynamics 365 Business Central – capabilities, types of licenses and their price – as well as how we can help your business enjoy the benefits of moving to Business Central.
Leveraging our breadth and depth of knowledge in Dynamics 365 Business Central, we have developed three implementation offerings: 1) DIY+; 2) Fast Start; and 3) White Glove. These packages support all kinds of small to mid-sized businesses. We have used these – or variations of them – to successfully implement Business Central for many customers, including some of our existing Dynamics GP customers.
Several years ago, we developed a Business Central add-on, Kind Connect. This flexible integration tool helps bring data like customer invoices, vendor payables and journal entries from any external application into Microsoft Dynamics 365 Business Central. This has provided us with an easy, cost effective way to integrate to Business Central.
In order to keep current, Tensoft is an active member of the Dynamics community. We are constantly building on our functional knowledge to keep our customers updated with the latest trends. Recently, our team attended Directions North America – a conference for Microsoft Dynamics Partners across North America and beyond in the SMB market. Along with training and certifications, events like this help us stay informed and allow us to pass that knowledge along to our customers.
If you would like to know more about Tensoft's Microsoft Dynamics practice and our Microsoft Dynamics offerings, visit: https://dynamics.tensoft.com/tensoft/ or contact us.