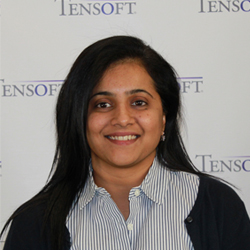 July was a busy month for Microsoft partners, including Tensoft. Microsoft hosted the world-wide partner conference, Microsoft Inspire, on July 15 -19 in Las Vegas. That was quickly followed by the Microsoft Business Applications Summit on July 22-24 in Seattle. Tensoft attended both the events. It's a great way to stay up-to-date on Microsoft products and roadmap, so that we can pass along the benefits of that to our customers. Now that the dust has settled, we caught up with a couple of Tensoft attendees to get some insight on what they saw and heard at these events.
"It was interesting to see Microsoft partners from all over the world at Microsoft Inspire and how they interact with Microsoft technologies, whether that be the modern office, Azure, or modern workplace applications.," said Tensoft COO Dan Berube who attended the Microsoft Inspire conference. "It's a good overview of the landscape of Microsoft products that are available to us as partners and to see how it all comes together."
A veteran Microsoft partner event attendee, Dan likens Inspire to what Microsoft used to call its Worldwide Partner Conference (WPC). And, as the names suggests, it is inspiring to see all the technological possibilities on display, as well as previews of all the products in the Microsoft solution stack. The Business Applications conference, however, is meant as a deep dive into the details, to show how they can be achieved. As Dan aptly described it: "One gives you the idea and the other one shows you how to execute the idea."
This year's Microsoft Business Applications Summit in Seattle was the first time for this Microsoft event. "It brought the BizApps community – Dynamics 365, Power BI, PowerApps and Microsoft Flow – all under one roof to connect, share and learn the full spectrum of tools that Microsoft offers. That included product strategy, messaging, and things to look forward to in the product roadmap," said Tensoft CEO Bob Scarborough.
Bob and other Tensoft attendees checked out sessions on Dynamics 365, Power BI, Power Apps and Flow, and found them very helpful. The messaging emphasized that Microsoft Dynamics 365 Business Central is a modern, intelligent "unified" solution, rather than just being "integrated." The idea being that it's already there and allows everything to work together as seamlessly as possible with little effort and/or technical input. This was evident in everything from Office to Power BI, to Power Flow, to Apps to Flow integration with the solution set.
"Overall, it was good content and interesting to see how all the applications are coming together. For example, Microsoft presenters showed one slide that illustrated the Dynamics NAV legacy of Dynamics 365 Business Central, and how it's leveraging not only the technology but also the Microsoft cloud solution. The focus is on innovation now. Satya Nadella's famous quote is apropos here: 'Our industry does not respect tradition, it only respects innovation'. What we saw previewed from the next release of Dynamics 365 Business Central reflects this philosophy of innovation," said Tensoft CEO Bob Scarborough.
For more insights, stay tuned!
Note: You can view some of the amazing on-demand sessions from these events by clicking on the following links:
• Microsoft Inspire
• Microsoft Business Applications Summit