Service items are useful to simplify the process of creating and invoicing orders for non-inventory items that need to be included in a Sales Order. These may be items like engineering services, warranty fees, prepayments and NRE's. In Tensoft DemandOps, there is the functionality to flag a saleable part as a Service item and by doing so, the entire order to invoice process is contained within DemandOps. They can also be tied to Customer/Marketing items like the traditional internal parts. This means that any custom forms in DemandOps will display the Customer/Marketing/Internal part as usual.
In the screenshot below, you can see that sales order lines for service items are identified differently in the system. Because they are categorized differently, reports in DemandOps can be filtered by service items, which can simplify finding pervious credits applied to sales orders.

Also, based on how you have setup your service item, you can use Microsoft Power BI to get those reports to display how much credits have been given to customers, what percentage of your items are being returned, etc. If service items are being used for prepayments, custom reports can also be used to help a company display what percent of their revenue is coming from prepayment of goods that need to be shipped at a later date.
Service items simplify the credits and refunds process. If the customer has to be an issued a credit for any reason, you can use the service items as a way to credit the customer. This is useful in cases where the customer will not be issued a credit for the full invoice amount. You can set up a Service Part called 'Return' and enter a new sales order for that returned item and then just make it negative all the way through. Doing this will allow you to control the exact credit applied and for how many units. This is useful for partial returns where a customer only returns some of the units shipped. The new credit line can be entered for only the amounts and value for the units returned.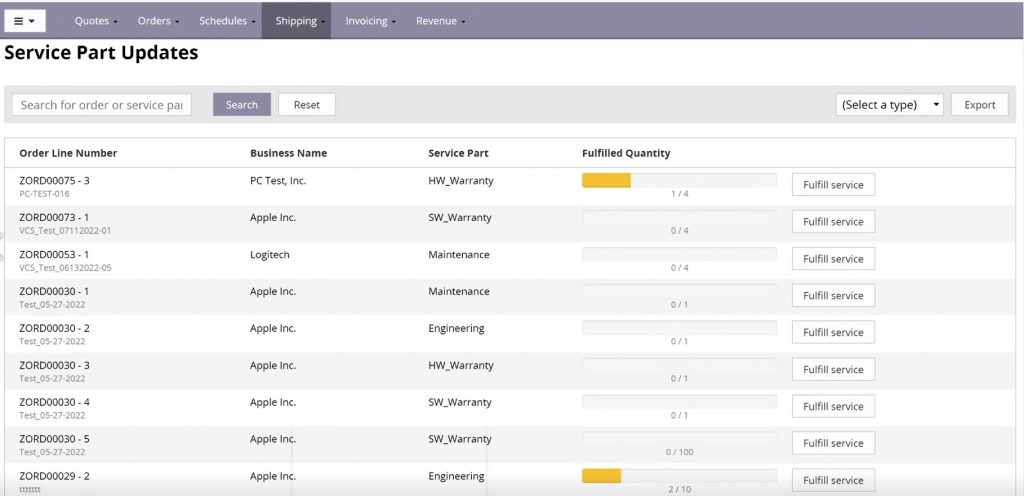 Service items also allow for partial fulfillments. This is helpful in the case where a customer has only shipped back part of the returned items. You can credit the customer only for the units returned and hold off on crediting the rest until all the merchandise is returned.
While fulfilling service items, you are also able to put a Comment or Note on it. The image below is an example of an invoice where we can see that the customer got a refund of $1,250 for Warranty. "Shipments" for service items will also generate a different packing slip number than those of traditional sellable parts, so this again ties back to the system making reporting based on service items simpler by differentiating service items at the part entry stage, shipping stage and invoicing stage.

To learn more about Tensoft DemandOps, visit our website or contact us!