February was an exciting month for Microsoft Power BI partners, including Tensoft. One reason is because Power BI is the clear leader on the 2021 Gartner Magic Quadrant for Analytics and Business Intelligence (ABI) Platforms. And, this is the 14th consecutive year that it has been positioned as a leader!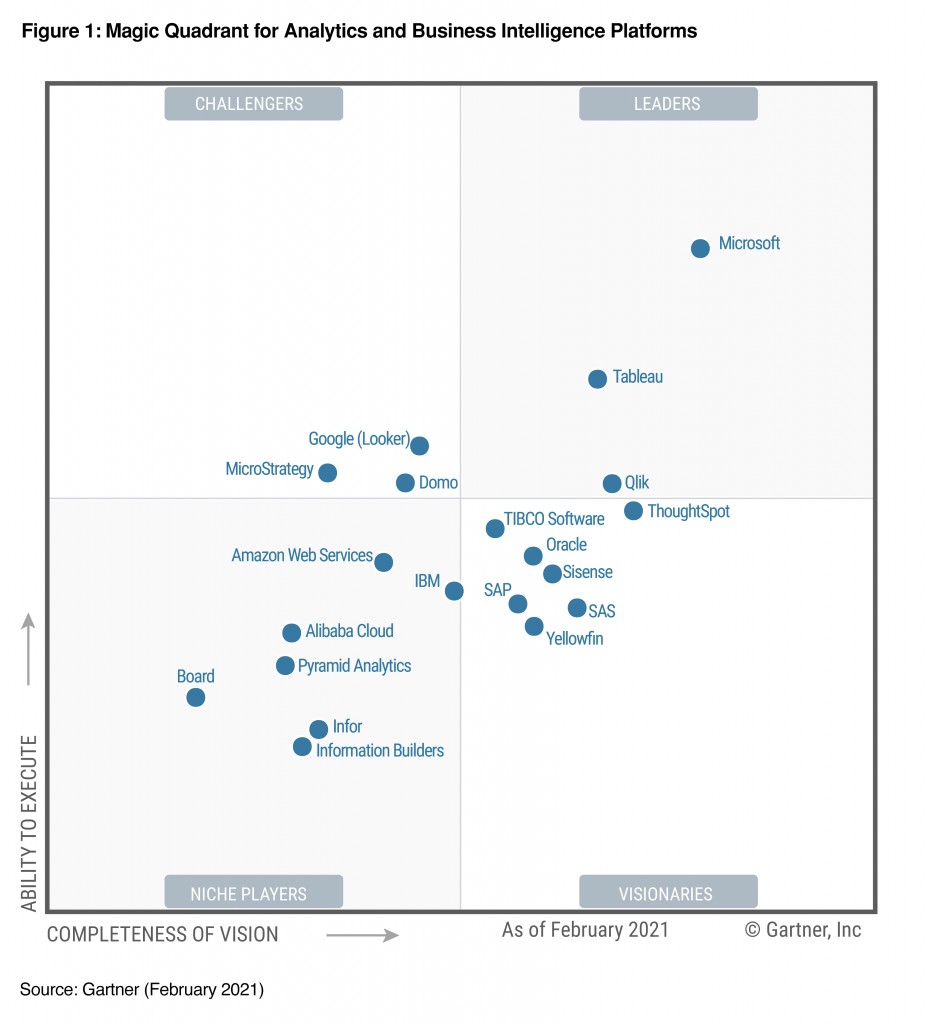 Per the 2/15/21 Gartner report, "[PowerBI] has massive market reach through Microsoft Office and a comprehensive and visionary product roadmap." Over the years, it has edged out its competition in both dimensions – completeness of vison and ability to execute.
The report aptly summarizes the strengths of Microsoft that makes it a top vendor for ABI platforms:
"Alignment with Office 365 and Teams: The inclusion of Power BI in the Office 365 E5 SKU has provided an enormous channel for the platform's spread, making it 'self-seeding' in many organizations. The increasing integration of Power BI into Microsoft Teams, with its tens of millions of daily active users, will further increase Power BI's reach in the world of remote working. Power BI is now often the option that organizations have in mind when using Gartner's client inquiry service to ask about ABI platform selection — 'why not Power BI?' is effectively the question most are asking.
Price/power combination: The influence of Power BI has drastically reduced the price of tools in the ABI platform market since its launch. In this case, though, low price does not equate to limited functionality. The Power BI cloud service is extremely rich in its capabilities, which include an enlarged set of augmented analytics and automated ML capabilities. AI-powered services, such as text, sentiment and image analytics, are available within Power BI Premium and draw on Azure capabilities."
Tensoft has infused its solutions with Power BI and developed a dashboard specifically for the semiconductor industry. It covers all the standard reports needed by semiconductor companies on a daily basis including bookings, backlog, shipments, inventory, WIP, IBOM, etc. With this dashboard, Tensoft customers can gain a 360-degree view of their data easily and make informed decisions.
As one of our customers using SemiOps and Power BI states in this case-study, "The days are gone by where you call the IT shop for the reports. So, it's pushing the environment and the self-service BI capabilities out to the end users. And that's where the Power BI piece came in and then we're just using the Tensoft data."
To get a quick walk through of Tensoft Power BI Dashboard, view this short video. If you would like to know how Tensoft can help convert your data into powerful insights with help of Power BI, contact us today!
Other Helpful Blog Posts