There are many benefits of using Tensoft SemiOps Data Uploads, especially when working with large volumes of transactions.
The production module in Tensoft SemiOps allows you to create and manage production orders – along with managing your overall supply chain and production process. We call these production orders a "PR" (Production Release). Production orders can be created by our planning module or manually as needed. An additional capability – and the focus of the recent webcast – focused on the external creation of PR. PR can be uploaded into SemiOps or integrated into SemiOps. This expands the system by supporting either external (or integrated) shop floor systems or outside planning systems. It can also support mass creation of PR by modeling them in a spreadsheet and then loading them into the system.
Upload by clicking on the "Suggested PR Upload" tab. You can easily create your own template using the example shown below, with the first column showing your Alternative PR number. This alternative PR number is used in the Production Release screen when you enter a new Production Release. The Alternative PR number lets us match the SemiOps order number with any external system that would be driving the creation of these production orders.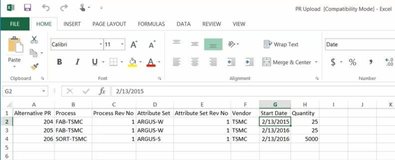 In the template header, the Alternative PR number column is followed by the process associated with your PR, then the rev number of that process, then the attribute set, then the attribute set rev number, then the vendor that's going to perform this service for you, then the start date and then the quantity. (One thing to remember is that the start date does need to be after today's date.) If any Tensoft SemiOps customers would like a copy for this template, just contact me – I'd be happy to forward a copy to you.
Once you've added all of the appropriate information to template, you're ready to upload. This will quickly and easily create two PRs for FAB-TSMC and one for SORT-TSMC. That's a brief overview of just one of the available data uploads in Tensoft SemiOps– there are about a dozen more data upload options. Please feel free to contact us for more information about Tensoft SemiOps features that will help you save time and effort.
For more information on Tensoft SemiOps (Fabless Semiconductor Manufacturing), please click here.