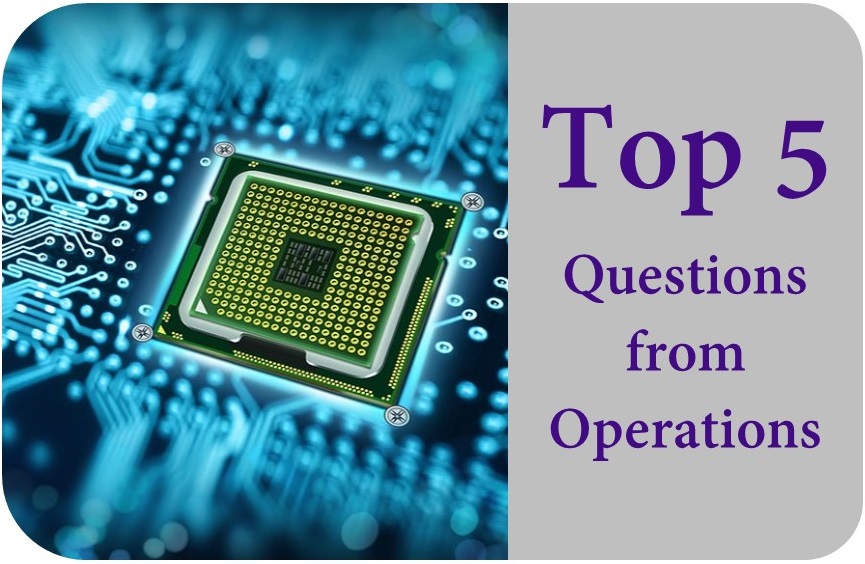 In this blog post, we have answered the top 5 questions that we receive from Semiconductor Operations on a Sales Call:
What type of semiconductor companies have you worked with in the past?

We have 20+ years of experience working with companies big and small in the semiconductor industry. Tensoft SemiOps supports fabless semiconductor, traditional semiconductor, integrated circuit, optical, RF, MEMS, solid state device, LED and solar manufacturers, sensor IC and module companies.

You can view a few of our customers on our website here. For a better understanding of some of these businesses and how we helped them, view the customer case-studies here.

We are a fast-growing semiconductor startup company. Will Tensoft be able to support our growth and expected high production volumes?

We're very familiar with the issues that our semiconductor customers face at every stage of their growth and have supported 100+ companies, many through IPO and/or acquisition. Pre-ramp and early ramp can be especially challenging, since resources may be slim, and processes may not be fully fleshed out. In addition, our customers may be under pressure from their larger customers to get a system into place, asap.

To support pre-ramp and early ramp customers, we offer a very cost-effective, fixed fee package called "SemiOps Express." It includes product configuration, production and inventory, production finance, and DemandOps. As you scale, moving to SemiOps Pro is simply a matter of adding the planning module and training your team on that. In addition, many of our customers add Vendor Integrations, the Tensoft PowerBI Dashboard, reporting options and other advanced features. Tensoft SemiOps Pro meets the needs of mature semiconductor companies with high production volumes and complex production operations.

We have unique manufacturing and supply chain needs. How can Tensoft help?

We understand that companies in the Semiconductor industry have unique needs that aren't well served by standard ERP/supply chain solutions. Tensoft SemiOps is an industry-specific solution and supports the semiconductor industry's unique manufacturing requirements, starting with its inverted BOM and one-to-many production model. It delivers a full lot genealogy, and the production attributes can be tracked for every step in the process. It provides complete WIP and inventory management support for operations and includes yielded cost models and detailed cost and variance analysis. With the large numbers of semiconductor companies that we've worked with over the years, chances are that we've run into your most perplexing issues at another company and have a solution for it!

To understand how SemiOps is different from standard ERP solutions, read this fact sheet.

Our semiconductor operations team is based in another country. Does Tensoft have experience working with customer teams in different time zones?

As a leading post-modern Cloud ERP and supply chain management solution provider for technology companies, Tensoft has a global customer base. We currently have customers spanning Europe, Asia, Africa, and North America. During our 20+years of experience in this industry, we have built customer support processes -including an online helpdesk – and a great support team for our cloud customers. We work diligently to accommodate our customers' schedules, no matter how many time zones need to be included.

Will Tensoft's fabless semiconductor management solution work with our existing ERP?

Tensoft SemiOps was designed to integrate with a financial/accounting system. To make integration as straightforward as possible, we have streamlined the number of integration points to just a few. We provide integration services and work with your financial/accounting system provider. We have a number of successful integrations projects with a variety of mid-market cloud systems such as SAP, NetSuite, Oracle and Sage/Intacct. The main requirement is that they have modern API's.

If you are interested in an "end-to-end" solution from Tensoft, we sell, implement and support Microsoft Dynamics 365 Business Central for many of our customers. We are a Certified Microsoft Cloud Service Provider for Dynamics 365 Business Central (Navision in the cloud) and have extensive experience implementing and supporting it. Ask us about Business Central – we like it so much that we use it ourselves!
For more insight on Tensoft's expertise in the Semiconductor industry, view our blog posts. To request a live demo of Tensoft SemiOps, click here. If you have any specific questions about Tensoft or its products and services, please contact us.