We are excited to announce Momentum 2.0 – our second online user conference – for the Year 2019. It will be held in September, and cover training sessions on Tensoft SemiOps, DemandOps and Microsoft Dynamics 365 Business Central. This is a wonderful opportunity for our customers to get free training and keep up with the latest product know-how.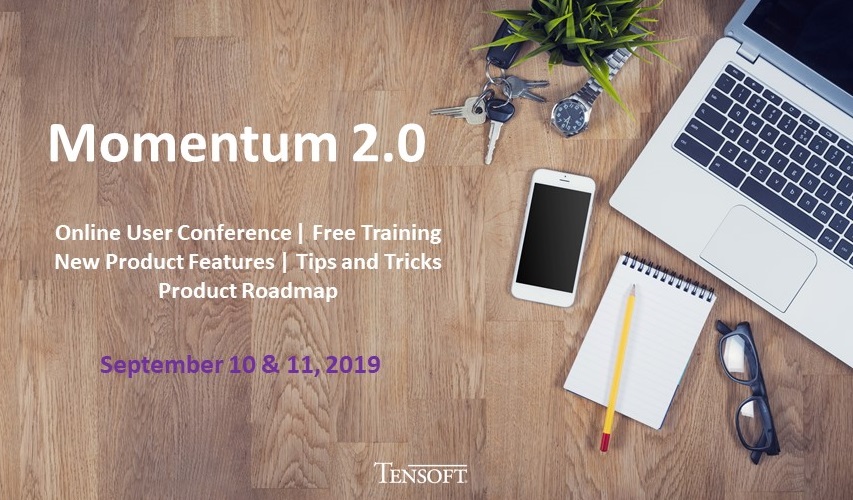 This quarter, guest presenter Joe Byrne, the CEO of Cognidox, will be joining us to present an informative webcast on document management for the semiconductor industry. View the agenda here.
In our March event, Tensoft Director of Supply Chain Solutions, Jeff Piaskowski, covered the API connections for Tensoft SemiOps and DemandOps. This quarter, he will dive deep into the SemiOps month end process and cover everything from computing cost, posting JE's, and reviewing month end reporting.
Attendees can also look forward to sessions on Microsoft Dynamics 365 Business Central. Tensoft's Business Systems Consultant, David Saunders, will be sharing few tips for successful Microsoft Dynamics 365 Business Central upgrade – how to schedule the upgrade, set up sandbox environment to preview the upcoming new features in October 2019 release, and extension validation. In another session, Tensoft Business Systems Consultant, Jason Ochipa, will cover few functionalities in Microsoft Dynamics 365 Business Central like approvals, navigation, personalization, etc.
Our DemandOps customers, can look forward to a session presented by Tensoft CEO, Bob Scarborough. This session will cover the DemandOps functionality, the new features added this year, and the new features in process.
Product sessions for this quarter:
Tuesday, September 10
Lean Document Management for the Semiconductor Industry
SemiOps Month End Process
Wednesday, September 11
Tensoft Knowledge Base & Business Central: Tips and Tricks
What's New in DemandOps
Microsoft Dynamics 365 Business Central Explained
If you're a Tensoft customer who missed our previous events or want to know what to expect, we encourage you to view the previous presentations – slides/recordings – on Tensoft Knowledge Base. For more information on Momentum 2.0, click here.