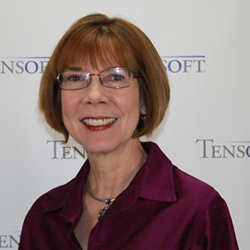 At Tensoft, customers are our #1 priority. And that's why we host an online customer user conference twice a year to help our customers learn and succeed. Our first conference for this year, Momentum 2020, will be held in May on Tuesday, May 19 and Wednesday, May 20.
Every year, we strive to create product and industry-focused sessions based on suggestions from our customers and input from our team. The goal is to provide an in-depth training on Tensoft applications, share best practices, product roadmap, new product enhancements, and most importantly brainstorm ideas so that we can develop great products that meet customer needs.
Led by Tensoft experts and/or guest speakers, this conference will cover interesting topics in Semiconductor and SaaS industries, including the new features in Tensoft SemiOps, DemandOps and Microsoft Dynamics 365 Business Central.
Some of our previous guest speaker sessions covered: Lean Document Management for the Semiconductor Industry presented by Joe Byrne, CEO of Cognidox Limited and How to Use Microsoft Dynamics 365 for Customer Engagement, presented by Ken Farmer, President/CEO of Dyn365Pros.
Session topics that we covered last year include:
SemiOps Month End Process
Tensoft Knowledge Base & Business Central: Tips and Tricks
What's New in DemandOps
Lean Document Management for the Semiconductor Industry
Microsoft Dynamics 365 Business Central Explained
Odata Connections: Microsoft Power BI & Excel
Feature Focus: Reporting in Tensoft Revenue Lens and Tensoft SemiOps
What's New in Microsoft Dynamics 365 Business Central
Standard Costing in Tensoft SemiOps
Product Direction & Wish list: Tensoft SemiOps + Tensoft DemandOps
Product Direction & Wish list: Tensoft Revenue Lens
Session registrations open in April 2020!
We have made the registration process simple and easy! We know that people have busy schedules and so we offer flexibility. Customers can choose the sessions that they want to attend and register just for those.
If you are a Tensoft customer and want to take full advantage of Tensoft products and features, then Momentum 2020 is for you. To learn how previous attendees have benefited from Momentum conference, read the testimonials here.